We Know Dust – From Sampling to Startup!
ADF Engineering offers dust management solutions ranging from dust sampling, to Dust Hazard Analyses, to design and startup services. The chart below shows the ADF difference. While other firms concentrate on specific areas, ADF's partnership-based approach means we manage the entire process for you.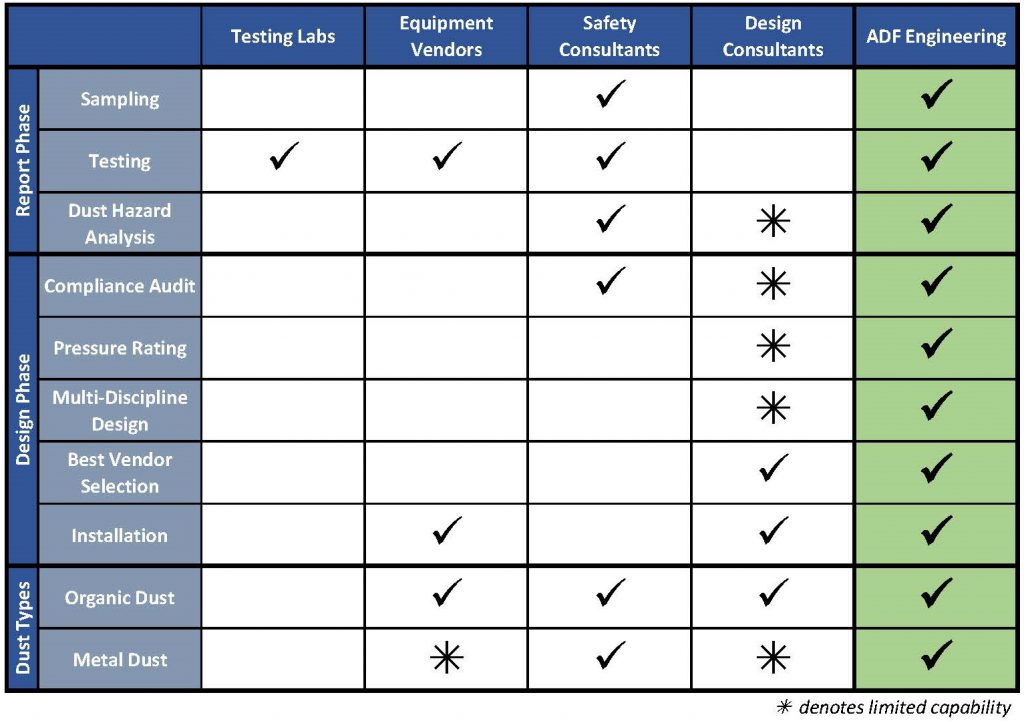 Dust Hazard Analysis (DHA)
The National Fire Protection Agency (NFPA) released a new standard on combustible dusts, NFPA 652, in September 2015. One new requirement introduced by the standard is that a Dust Hazard Analysis (DHA) must be performed by September 2020.
A number of new requirements were introduced by NFPA 652 that had not previously been included in commodity-specific standards. One of the major changes is that NFPA 652 retroactively requires that a Dust Hazard Analysis (DHA) be performed for all operations that generate, process, handle or store combustible dusts or particulate solids. For existing facilities, a DHA must be completed by the end of September 2020, three years after the issuance of the standard. Each facility owner or operator is responsible for determining if the handled materials are combustible, and if so, characterizing their properties for the DHA.
The first step in the process is to determine the combustibility characteristics of the dusts handled on the site, based on either of the following:
Historic facility data or published data that are representative of current materials and process conditions; or

Analysis of representative samples by testing at a qualified lab.
The use of published data for commodity dusts, such as soybean dust, carries the risk that the specific dusts at the site are assumed to be identical to the dust analyzed in the published data. However, actual combustibility characteristics are affected by particle size, shape and moisture content. Therefore, the use of published data can result in improper explosion protection equipment sizing.
The specific combustible dust characteristics which need to be determined for each dust includes the following:
Kst (relative measure of the explosive potential of the dust, used for sizing vent panels)

Pmax (maximum pressure developed by explosion, used in equipment design)

dP/dt max (rate of pressure rise, used in detection instrument design)

MEC (minimum explosible concentration, determines limits on dust quantities which may present a hazard)

MIE (minimum ignition energy, determines sensitivity to ignition sources)

MIT (minimum ignition temperature for dust layer, used in electrical component design, particularly insulation class)
Once the dust characteristics are identified, the next step is to set up the DHA by determining the appropriate areas of risk in the process from current Process Flow Diagrams or P&ID's, which must accurately show all dust collection or aspiration system connections.
The actual DHA review meeting may then be held at the site and must include the following participants, at minimum:
Qualified DHA Facilitator

Site Engineer

Experienced Operator and/or Maintenance Personnel

Facility or Operations Manager

Site Safety Manager
The duration of the on-site DHA review depends upon the overall complexity and size of the facility, the variety of dusts handled and the accuracy and completeness of the process documentation.
Information to be identified and evaluated at the DHA includes:
Review of all dusts handled and their combustibility characteristics

Identification of all potential areas of risk and likelihood

Credible ignition sources and suspension mechanisms

Safe operating ranges

Explosion prevention and protection methods

Explosion propagation paths

Recommendations for additional protection measures
Finally, the DHA Facilitator will summarize the identified hazards, dust characteristics, current and proposed dust explosion prevention and protection measures and agreed upon implementation plan and schedule to address all gaps in combustible dust risk compliance. It is this DHA implementation plan to which the site will be held accountable in the event of an OSHA audit or combustible dust incident investigation. Furthermore, all future changes to the processes or dusts handled must be documented through a Management of Change procedure to determine necessary dust safety system changes and kept with the official DHA documentation by the facility safety coordinator.
The DHA is similar to a Process Hazard Analysis (PHA). The purpose of the DHA is to guide facilities through determining the combustibility of their dusts and to guide planning and designs to mitigate potential hazards.
ADF has developed a simple, cost-effective process to assist our clients with every step of their DHA.
DHA Cost
While each DHA will be tailored to your specific needs and plant conditions, these ranges could be representative of what to expect:
Small Facilities: A small-scale production with only one or two dusts and requiring minimal facility upgrades. $5,000-$15,000

Mid-Sized Facilities: Processing facility that handles multiple dusts. $10,000-$20,000

Large-Scale Facilities: A complex facility handling multiple dusts in multiple processes. $15,000+
Download our Bulk and Powder Brochure to learn more about material handling offerings from ADF.
Want more information? Send us a message!
[[[["field8","",""]],[["email_to",null,"mwilliamson@adfengineering.com"],["email_to",null,"info@adfengineering.com"]],"and"]]
SIGN UP FOR NEWS FROM ADF