Full service dust management solutions
ADF Engineering offers dust management solutions ranging from dust sampling, to Dust Hazard Analyses, to design and startup services.
While other firms concentrate on specific areas, ADF's partnership-based approach means we manage the entire process for you, including dust control systems.
Most DHA's can be performed remotely – fill out the request form at the bottom of the page for more information!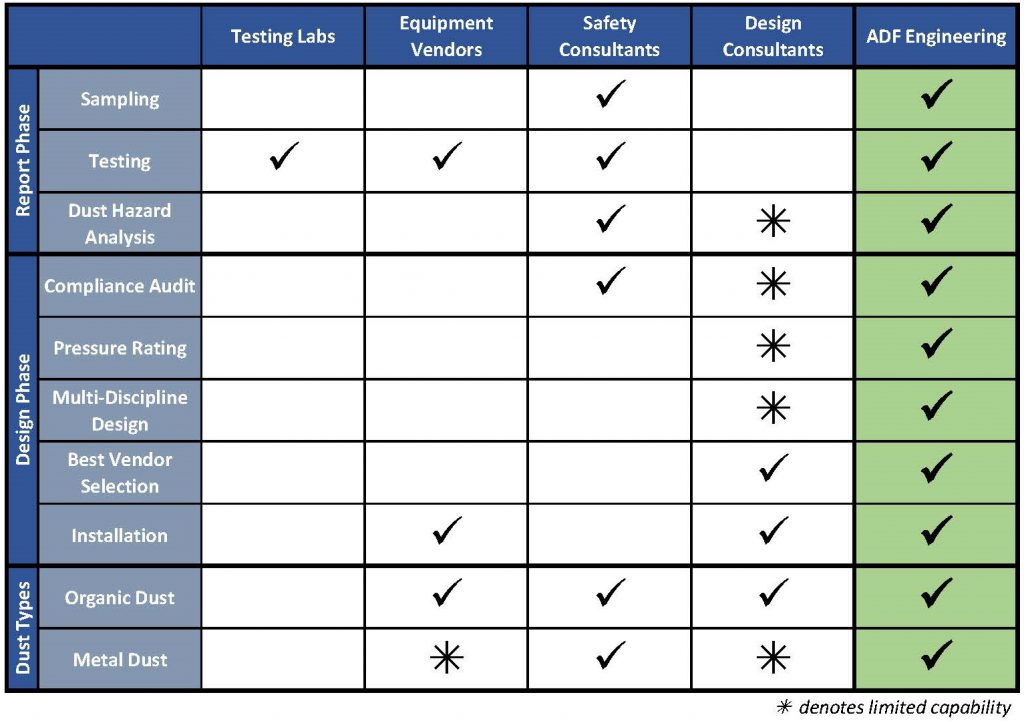 The importance of Dust Hazard Analysis (DHA)
The National Fire Protection Agency (NFPA) released a new standard on combustible dusts, NFPA 652, in September 2015. One new requirement introduced by the standard is that a Dust Hazard Analysis (DHA) must be performed by September 2020.
The DHA is similar to a Process Hazard Analysis (PHA). The purpose of the DHA is to guide facilities through determining the combustibility of their dusts and to guide planning and designs to mitigate potential hazards.
ADF has developed a simple, cost-effective process to assist our clients with every step of their DHA.
"DHA Implementation: Creating Effective Solutions"
Watch a recording of this webinar presented by Matt Williamson, P.E., ADF's Engineering Director
DHA Cost
While each DHA will be tailored to your specific needs and plant conditions, these ranges could be representative of what to expect:
Small Facilities: A small-scale production with only one or two dusts and requiring minimal facility upgrades. $5,000-$15,000

Mid-Sized Facilities: Processing facility that handles multiple dusts. $10,000-$20,000

Large-Scale Facilities: A complex facility handling multiple dusts in multiple processes. $15,000+
CONTACT US FOR A DUST HAZARD ANALYSIS TODAY