CLIENT: Bulk Material Storage and Transload Facility
PROJECT: Tubular Conveyor Gallery consisting of thin wall steel shell
BACKGROUND: The client approached ADF Engineering to design a bulk material storage and transloading facility in the Chicago Area. As part of the project, our Structural engineers were tasked to design a conveyor bridge to transfer the product from the receiving tower to the dome type storage silo. The conveyor support bridge had several challenges.
CHALLENGES:
Had to be free spanning (134') because intermediate supports would have interfered with emergency vehicle traffic.
Despite being in Chicago area, it needed to be completely sealed weather-tight due to the product being extremely sensitive to moisture.
Need to provide both personnel access to the dome headhouse as well as a trolley system to replace conveyor screws.
Needed to support conveyor's heavy gravity and dynamic loads, resist high wind loads, and to be cost efficient to construct and maintain.
WORK COMPLETED:
This project was designed as a portion of a new facility design on an accelerated timeframe in order to complete construction to harvest the Fall crop. The design of the Tubular Conveyor Gallery included:
Comparing options between an open box truss-type bridge with additional architectural panel attachments for weatherproofing vs a continuous tube steel shell structure. The Tube shell structure was selected based on the following considerations:

Fabrication & shipping costs – Tube was fabricated off site, on site assembly was limited to (2) bolted flange splices.
Installation costs – Tube was designed to be installed as a single lift.
Maintenance and durability – solid thin wall shell structure eliminates possible leaks due to flashing failure.

Sizing of Tube diameter and thickness.

12'-6" diameter selected based on required vertical clearance for trolley system as well as limiting overall deflection criteria for deflection sensitive screw conveyors.
Tube plate thickness selected for required bending strength. Thickness was reduced at the ends of the span to help reduce weight and material cost
Grade of steel was selected A36

Design of ring stiffeners to resist shear stress, both during operation as well as while being lifted during installation.
Connection design for both tower and silo end supports. Including additional stiffener rings & saddles, pinned type connections to resist lateral movement, and roller type connections with Teflon slide plates to allow for thermal expansion/contraction of the tube throughout the year.
SUMMARY:
Thin wall steel shell structures are an excellent alternative to a traditional box truss-type bridge. Their excellent watertight ability and strength can be a designer choice for long span conveyor bridges.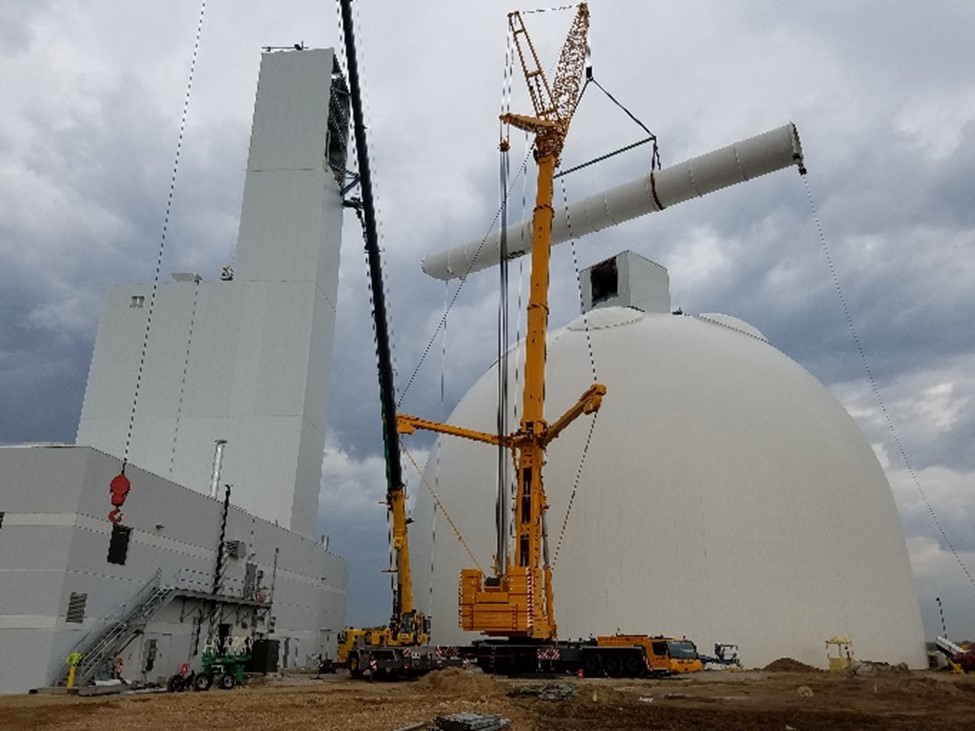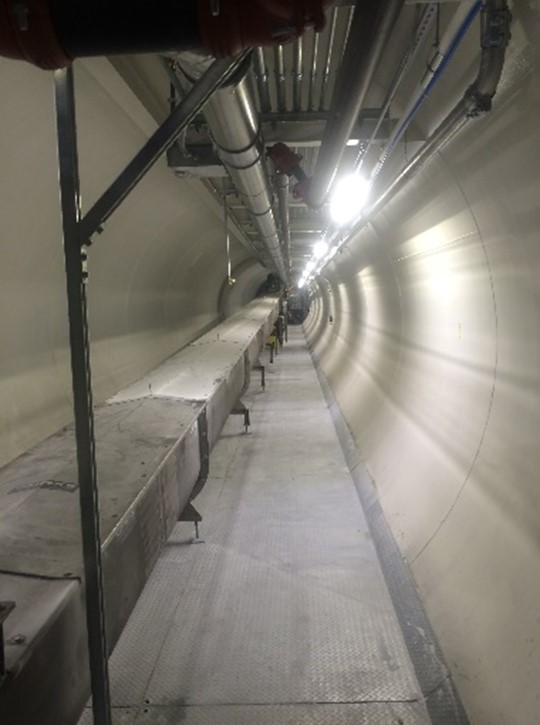 For additional information on design and application of large diameter ducts, shells, and stacks, please contact djacobs@adfengineering.com
Derek Jacobs, P.E., S.E.
Structural Department Manager
937-847-2700 ext. 128