Food Facility Packaging Line Expansion
CLIENT: Global Aseptic Food Manufacturer
PROJECT:  Packaging Line Expansion
BACKGROUND: The site wanted to expand with 2 new packaging lines but was concerned about the existing utilities capacities.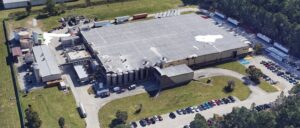 ADF was asked to perform studies to evaluate each utility to determine what upgrades were needed to support the additional packaging lines.
CHALLENGES:
Obtaining operational data and information on existing processes to evaluate utility was difficult due to limited process instrumentation.
Site production is very modular and SKU's change frequently.
WORK COMPLETED:
Operational data was compiled for compressed air, nitrogen, water, chilled water, cooling water, and steam usage.
Installation of water treatment upgrades including a new reverse osmosis system.
Refurbishment of two decommissioned boilers to provide additional steam capacity to site.
Installation of two new packaging lines.
SUMMARY:
The effort led to discovery of several utility bottlenecks. Some were resolved with operational / control changes and others required expansion. The new packaging lines were installed and brought online without impact to the existing site throughput and operation.
For additional information on utility studies, please contact ndeutsch@adfengineering.com or mwilliamson@adfengineering.com