Visit us at IPPE Atlanta!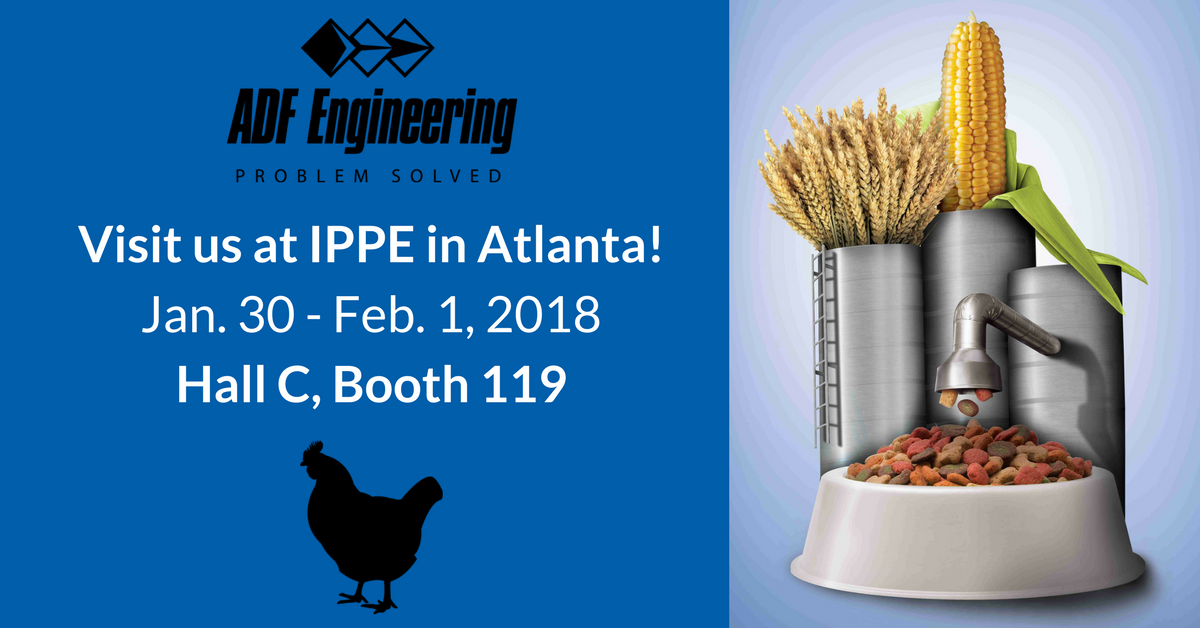 2018 International Production and Processing Expo
ADF will be exhibiting again this year at IPPE in Atlanta, January 30 – February 1. Alex Fishman and Steve Minnich will be on hand to discuss ADF's capabilities and expertise in the Grain Processing, Animal Feed and Pet Food Industries. We look forward to connecting with you at Booth C119.
Your partnership with an experienced engineering company can help your operations be more profitable. ADF Engineering offers extensive knowledge and a high level of Process and Facility engineering experience in Animal Feeds, Pet Foods and Grain Processing from process development thru operations. Every year ADF executes over 400 value-driven projects.
ADF is an Industry Expert in Food, Feed, and Grain
ADF Engineering has completed various projects in Food and Feed Processing based on the direction and needs of our Clients. ADF also developed a new concept for the process system to sanitize Feed during pelleting and loadout. Below is a short list of recently completed ADF projects:
Completed several process hazard and dust hazard analyses (PHA/DHA) to ensure NFPA 652 compliance.
Provided all phases of process and facility engineering for a major expansion to produce high value feed additive at an animal nutrition ingredient plant.
Engineering and process definition for production of high quality Dairy Feed.
Conducted process safety studies for a major multi-site Pet Food Company.
Provided engineering for a high capacity fiber pellet storage aspiration system
Completed various Dust Collection and Explosion Prevention projects for grain and ingredient processing plants.
Designed food safety sanitation system effective against pathogens, including Salmonella and E.coli.
Conducted Hammermill airflow studies and troubleshooting.
Created as-built intelligent P&ID's for various Grain Processing Plants
Designed water supply expansion for premium Pet Food Operation.
Completed wastewater management project at a Corn Processing Plant.
Provided HACCP services for a specialty animal feed company.
Ingredient unloading and pneumatic transfer projects at various sites.