Visit ADF at the American Bakers Tech Conference!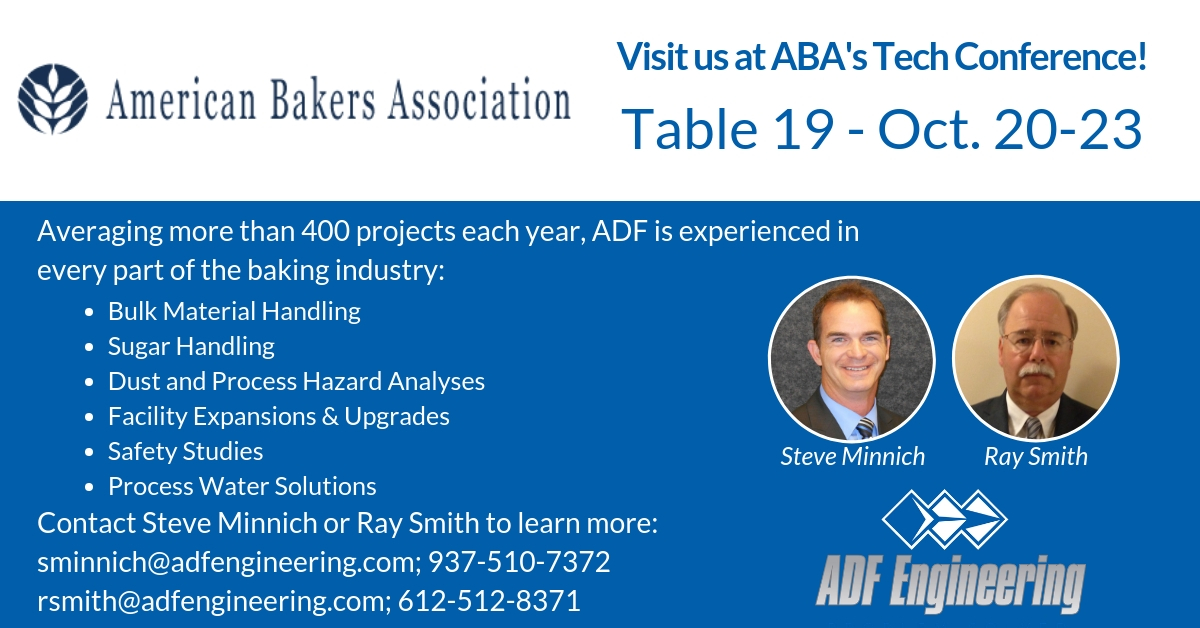 2019 American Bakers Association Technical Conference: October 20-23 in Atlanta
ADF's Consultant Engineer Ray Smith and Sales Manager Steve Minnich will be attending the ABA Tech Conference to discuss ADF's capabilities and expertise for the baking industry. We look forward to connecting with you at Table Top Exhibit 19.
Be sure to attend Ray Smith's presentation "Understanding your Bulk Ingredients and Managing your Combustible Dusts" from 2:30-4 p.m. on Monday, October 21st! 
Your partnership with an experienced engineering company can help your operations be more profitable. ADF Engineering offers extensive knowledge and a high level of process and facility engineering experience in the food processing industry. Every year ADF executes more than 400 value-driven projects.
Hot Topics in 2019
Bulk Material Handling
Click here to see the many ways ADF can assist with bulk powder and solids in your facility.
Sugar Handling & DHA's
The National Fire Protection Agency  (NFPA) released a new standard on combustible dusts, NFPA 652, in September 2015. One new requirement introduced by the standard is that a Dust Hazard Analysis (DHA) must be performed for all facilities with combustible dusts on site.
Water Recovery
The ADF Engineering team understands that water keeps your operation flowing. We also have the experience to integrate water solutions into your plant to maximize efficiencies, reduce energy costs, and increase production consistency.