ADF Engineering is proud to announce its 15th Anniversary!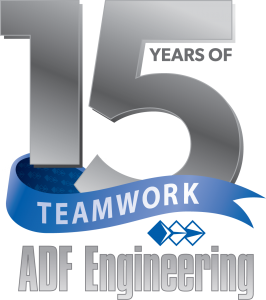 Since 2003, ADF Engineering has experienced significant growth to meet the increasing demand for engineering expertise. ADF's personalized approach to every project allows us to create quality and cost-effective engineering solutions for every client.
15 Facts About ADF Engineering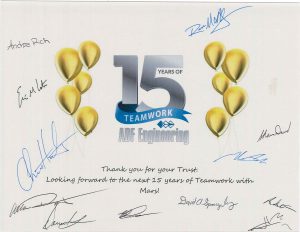 The letters ADF are actually our president's initials: Alex D. Fishman.
We work in many industries, including agriculture, food, animal feed, pet food, consumer products, pharma and nutraceuticals, biofuels, chemicals, steel manufacturing, utility companies, and more.
ADF has grown from a one-man shop to a firm with nearly 50 employees.
ADF is a multi-disciplinary engineering firm offering process, structural, mechanical, piping, electrical, controls, instrumentation, laser scanning, and other services.
ADF maintains two offices, the headquarters in Dayton, Ohio, and a satellite in Omaha, Neb. Over the years, we've had additional locations based on client demand, including full-fledged offices and on-site trailers.
We love client testimonials and have them proudly displayed around our Dayton office. (Submit your own here.)
ADF offers lunch 'n learns for clients on a variety of topics.
Our employees hold Professional Engineering licenses or reciprocating licenses in nearly every state.
ADF promotes laser scanning to complement projects. Read why here.
ADF is currently hosting a webinar series on DHAs.
ADF employees have been featured as experts in several publications.
In preparation for our 15th Anniversary, ADF launched a new website.
ADF participates in trade shows and conferences year round. Which do you visit? Let us know.
In 2014, ADF won a national award for excellence from the Professional Services Management Journal (PSMJ).
ADF began its 15th year by redefining our company values. Read our top-five values here.
ADF Big 15 Employee Celebration
For our 15th anniversary, ADF treated employees and families to a night of games and fun! From limbo, to tug of war and corn hole, to a dunk tank with company management, to prizes (including our grand-prize winner Natalie Quinn, a process engineer at ADF), we all had a blast!