ADF Welcomes Ghassan Abou-Elias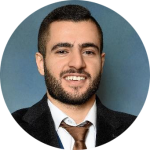 Please welcome ADF's newest Process Engineer!
ADF is pleased to announce Ghassan (Gus) Abou-Elias has joined ADF as a full-time Process Engineer as of May 10, 2021. Gus started with ADF as a Student Intern Process/Chemical Engineer in February of 2021 and upon completing his graduate degree in May of 2021 Gus joined ADF as a full-time Process Engineer effective May 10, 2021. Gus has consistently excelled in his academic pursuits and obtained his MS in Engineering/Industrial Management at the University of Dayton in May, 2021 with a 4.0 GPA and a full-merit scholarship. Gus also served as a Teaching Assistant while at the University of Dayton. Prior to attending the University of Dayton, Gus received his undergraduate degree in Chemical Engineering from the Holy Spirit University of Kaslik in Lebanon, along with a full merit scholarship for outstanding academic achievement.
In addition to his engineering degrees, Gus holds a Green Belt in Lean Six Sigma and a Systems Engineering Certificate and is fluent in Arabic and French. Gus has experience in the pharmaceutical, food & beverage, and plastic manufacturing industries. Gus also has experience in project management, data modeling and analysis, and is proficient in Excel, Java, MATLAB, PSpice, Prezi, Visio, VBA, Simio, Minitab and AutoCAD.
While not focusing on engineering, Gus enjoys hiking, basketball, biking, and anything outdoors. Please drop by to congratulate Gus or reach out to him at Extension 150 or through Teams.
About ADF Engineering
ADF Engineering helps clients improve manufacturing operations and profitability by designing safe, efficient, and sustainable solutions. Over the last 17 years, ADF Engineering has been the go-to source for engineering solutions for the oilseed, grain, agriculture, sugar, sweetener, biofuel, pet, and animal feed industries. With offices in Miamisburg, Ohio, and Omaha, Nebraska, ADF Engineering serves some of the world's largest companies in the United States.