What's on Your Report Card?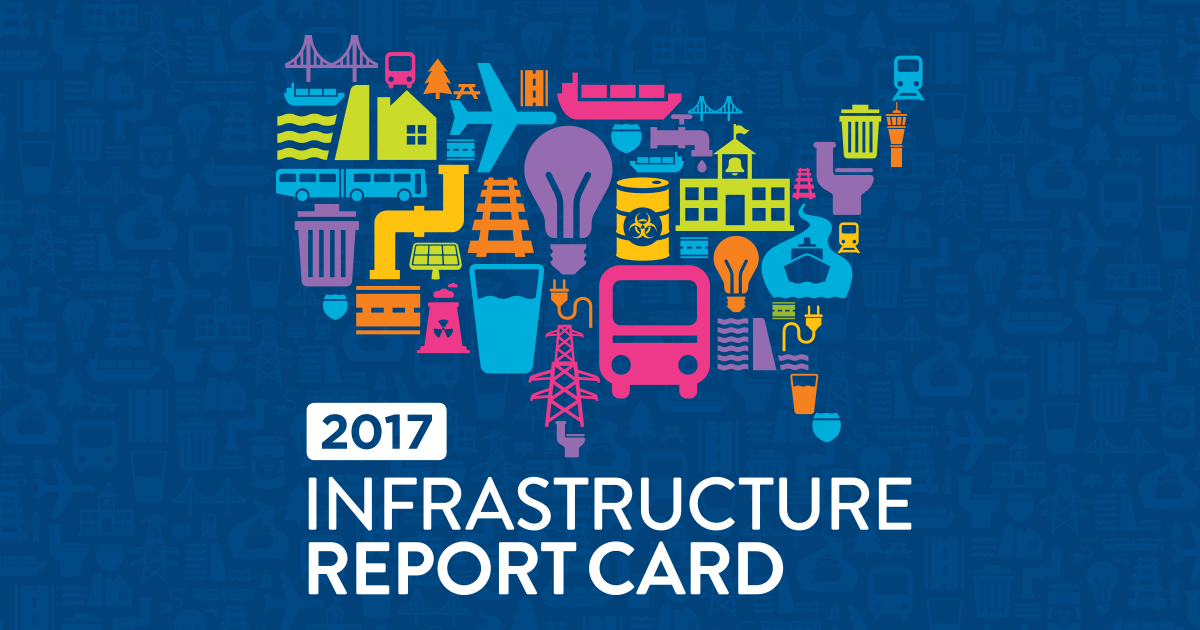 Every four years, the American Society of Civil Engineers (ASCE) releases a report card to grade the state of America's infrastructure nationwide. It takes into account things like bridges, roads, wastewater management, energy, and more. The 2017 report card came in at an abysmal D+.
According to ASCE, they use the following criteria to consider grade placement.
Capacity: Does capacity meet current and future demands?
Condition: What is the existing and near-future physical condition?
Operation and Maintenance: What is the owners' ability to operate and maintain? Is everything in compliance with regulations?
Public Safety: To what extent is the public's safety jeopardized by the condition of the infrastructure and what could be the consequences of failure?
Resilience: What is the infrastructure system's capability to prevent or protect against significant multi-hazard threats and incidents? How able is it to quickly recover and reconstitute critical services with minimum consequences for public safety and health, the economy, and national security?
The results were then ranked by grade:
A: Exceptional state, and fit for the future.
B: Good, and adequate for now.
C: Mediocre, and requires attention.
D: Poor, at-risk conditions.
F: Failing, and unfit for intended purpose.
So, what's on your plant infrastructure report card?
If you were to rate your plant's infrastructure similarly, what grade would you give it?
Consider your facility's integrity, including buildings and structures, equipment, piping, electrical, and undergrounds.
Review your facility's ability to protect against natural and process hazards.
Examine your current workflows, automation, and usage of manual labor.
Survey the safety of your access equipment such as ladders, stairs, and handrails.
If you feel that your infrastructure grade needs improvement, then don't postpone – deal with it right away to prevent accidents and incidents. Start by creating a facility improvement plan.
Alex Fishman, President of ADF, suggests that your action plan should be divided into priorities over several years, from severe hazards to less severe.
ADF can partner with you and help to improve your facility infrastructure, efficiency, and, most importantly, reduce hazards.
Our recent experience includes:
Audits including process safety, dust safety, OSHA, structural and mechanical integrity.
3D laser scanning of hard-to-access places and develop facility documentation for future needs.
Operation Excellence audits including labor utilization and workflow efficiency.
Resource reduction and re-use audits including water, wastewater, and energy.
Electrical zone and hazard classification.
Undergrounds detection.