Stop by Booth 338 at the Petfood Forum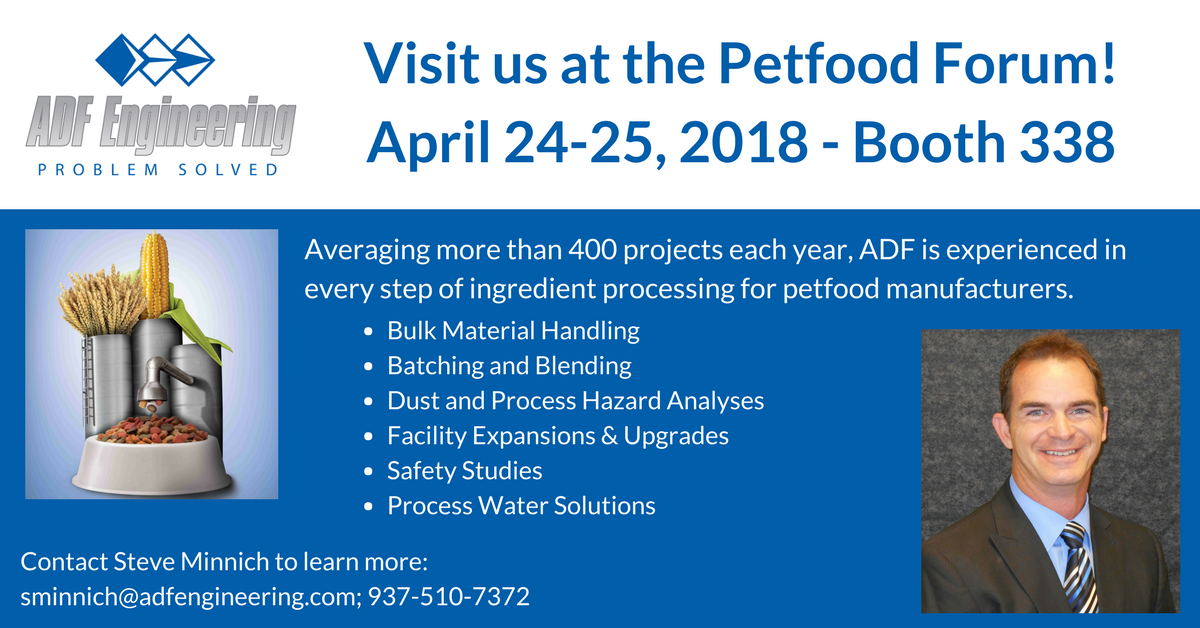 ADF will be exhibiting at the 2018 Petfood Forum in Kansas City, MO, April 24-25, in Booth 338. Project Manager Steve Minnich will be in attendance to answer questions about ingredient processing, facility efficiencies, and all other areas of pet food production.
We're an industry expert. Let our project work speak for us:
Completed a process hazard analysis and dust hazard analysis (PHA/DHA) for an Ohio pet food plant expansion to ensure NFPA 652 compliance.
Provided all phases of process and facility engineering for a major expansion to produce high value feed additive at an animal nutrition ingredient plant.
Engineering and process definition for production of high quality Dairy Feed.
Conducted process safety studies for a major multi-site Pet Food Company.
Provided engineering for a high capacity fiber pellet storage aspiration system.
Completed various Dust Collection and Explosion Prevention projects for grain and ingredient processing plants.
Designed food safety sanitation system effective against pathogens, including Salmonella and E.coli.
Conducted Hammermill airflow studies and troubleshooting.
Created as-built intelligent P&ID's for various Processing Plants.
Designed water supply expansion for premium Pet Food Operation.
Completed wastewater management project at a Processing Plant.
Provided HACCP services for a specialty animal feed company.
Ingredient unloading and pneumatic transfer projects at various sites.
About ADF Engineering
ADF Engineering is a full service engineering and consulting firm servicing the Food, Feed, Biofuel, and Bio industries. ADF provides engineering and support throughout all phases of projects ranging from your business plan to commissioning. ADF Engineering has accumulated an impressive client list including Fortune 500 companies by offering all disciplines of engineering expertise including process, chemical, civil/structural, mechanical, electrical and instrumentation/controls.