Mechanical and Piping Contractor Pipe Stress Analysis
This Midwestern contractor required assistance with determining the thermal stress and displacement for multiple steam and steam-in-place (SIP) process piping at a new facility that was being built. For this project, ADF performed pipe-stress and displacement analyses using the latest Bentley AutoPIPE software and provided reports with recommendations on required location and type of pipe supports needed to de-stress the piping system.
WORK COMPLETED:
ADF provided piping engineering services to the client during the project:
3D modeled the steam and SIP piping systems as provided by the client.
Conducted several pipe-stress and displacement analyses of client's piping system.
Calculated the thermal movement, expansion, displacement, and identified any locations of over-stressed pipe.
Provided reports for each system with recommendations on new types and locations of pipe supports to bring the stress' to within allowable limits per ASME B31.3 code.
Figure 1: Pipe Stress Analysis as installed on site. Overstressed pipe due to thermal growth and rigid hanger supports.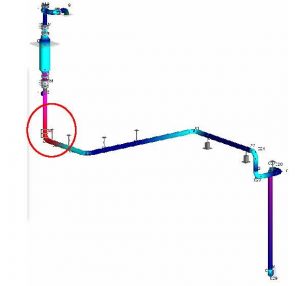 Figure 2: Pipe Stress after ADF's recommendation to replace a rigid hanger support with a Variable-Spring type hanger.