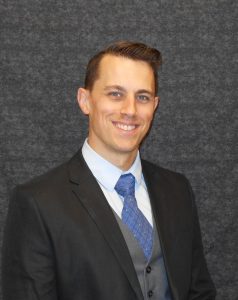 Our clients frequently approach Structural Department Manager Derek Jacobs, P.E., S.E., (pictured left) to proactively identify any OSHA walking surface and structural integrity issues. This kind of initiative can protect you against accidents, reinforce safety at your facility, and keep you away from fines and other troubles.
Since some facilities don't get enough funding for infrastructure maintenance as they show their age, these proactive inspections are a great way to catch up. To make the process easier, we divide it into two phases. In Phase One, ADF performs Structural and OSHA assessments for all the elevated work surfaces, platforms, catwalks, ladders, and stairs, and then compiles all findings into a report which summarizes the location, types of the deficiencies found, and solutions to bring the issues up to code. In Phase Two, ADF provides follow up engineering design services required to remedy the identified deficiencies, including Issue for Construction structural sketches and CAD drawings.
Here's an example of one client's Phase One findings:
OSHA assessment for all elevated work surfaces, platforms, catwalks, and ladders greater than 6' off the ground level.
Assessed about 200 elevated work surfaces, platforms, catwalks, ladders, and stairs and tagged each structure with a unique identifier:

With a sketch showing the working surface, platform, catwalk, ladder or stair on a provided site plan. Any issues found were drawn and noted on the sketch. The markups were included as an attachment to the report.
With physical, heavy-duty asset tags placed on the working surface, platform, catwalk, ladder, or stair.

Identified more than 350 deficiencies that require remediation to meet current OSHA standards. Issues range from unstable equipment access platforms hanging from roof joists, to not meeting OSHA guardrail requirements for stairs. Any issues observed which could result in serious injury or loss of life were immediately reported to the client project manager to be closed off.
Compiled all findings, references, sketches, and recommendations into a Summary Report and submitted to the client.

The report employed a ranking system to sort issues by priority to help the client determine a schedule to address the findings. For example, the unstable platform hanging from the roof was categorized as an issue that needs to be solved immediately due to the danger of walking on the platform.
The report defined what services, either further engineering or repair by a contractor, were required to fix an issue. Our report identified around 30 deficiencies which needed further engineering services, with the rest being resolved without any engineering assistance.
Do you notice steel corrosion and concrete cracks? Is your facility OSHA compliant? Contact Derek to find out.