ADF's Derek Jacobs Competes in the 2021 Nathan's Famous Fourth of July International Hot Dog-Eating Contest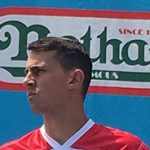 ADF's own Derek Jacobs will be competing in this year's Nathan's Famous Fourth of July International Hot Dog-Eating Contest. The event takes place in Coney Island at Noon EST on Sunday, July 4, 2021.  Tune in to ESPN to catch the event live and cheer on Derek!
Derek first started his journey into competitive eating by attempting restaurant challenges as he traveled around the country. Most notably, he has finished the Big Texan 72 oz. steak challenge twice, once while on-site in Amarillo, TX, visiting a client.
While attending a Cincinnati Reds game in 2017, Major League Eating was holding a qualifying round for the upcoming Natha's Famous International Hot Dog-Eating Contest. Without overthinking it, Derek competed in the qualifier and won, making him eligible to participate in the contest. He has been competing every year since. 
Derek also competes in additional eating contests throughout the year held by Major League Eating. These events feature everything from pizza to ice cream and generally have more parity among the contenders. Derek typically places in the top six when he participates in these events.
His game-day routine is fairly simple. He heads into the contest on an empty stomach and has a small amount of coffee to maintain intense focus. To most of us, a 10 minute round may not sound like much time, but when you are doing one repetitive task as fast as possible for that 10 minutes, your body can wear down quickly. You need to have a good balance of physical stamina and mental concentration. 
When asked about his favorite brand of hot dogs, Derek doesn't really have a personal favorite. Aside from competing, he doesn't eat hot dogs that often. So what's Derek's hot dog eating record? Thirty hot dogs in 10 minutes is his top performance. Tune in this Sunday to cheer him on and see if Derek can beat his personal best. Maybe he'll even take home the title!