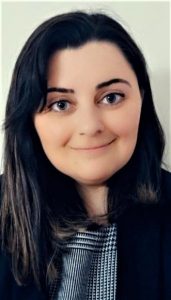 Maria Corsi joins ADF as a Structural Engineer I 
ADF is pleased to announce Maria Corsi has joined ADF as a Structural Engineer I as of May 04, 2021. Maria recently relocated from Canton, Ohio to accept her new position. Maria received her BS in Civil Engineering from Case Western Reserve, cum laude, and earned a scholarship in recognition of her academic abilities. Maria then went onto obtain her MS in Structural Engineering from Rensselaer Polytechnic Institute and won a Graduate Fellow Award. She seriously considered obtaining her Ph.D. in Engineering and using her knowledge as a professional academic but determined her real interest was in applied engineering. Academia's loss is ADF's gain; we are the lucky recipient of Maria's change in career paths. Not surprisingly, Maria comes from a family of engineers.
She is proficient at learning engineering software and has a broad scope of academic training and interests including Advanced Concrete Design, Advanced Steel Design, Construction Management, Design for Constructability, Earthquake Engineering, Finite Element Analysis, Hydraulics and Hydrology, Masonry Design, Soil Dynamics, Surveying and Computer Graphics, Timber Design, and Wind Engineering.
Maria has taken her FE Exam and currently is in EI status. She plans on obtaining her PE after she accumulates the necessary experience at ADF. When Maria is not focused on engineering, she enjoys the art (and chemistry) of baking.
About ADF Engineering
ADF Engineering helps clients improve manufacturing operations and profitability by designing safe, efficient, and sustainable solutions. Over the last 17 years, ADF Engineering has been the go-to source for engineering solutions for the oilseed, grain, agriculture, sugar, sweetener, biofuel, pet, and animal feed industries. With offices in Miamisburg, Ohio, and Omaha, Nebraska, ADF Engineering serves some of the world's largest companies in the United States.
Media Contact: Steve Minnich: sminnich@adfengineering.com