ADF Presenting on Two Topics at AOCS 2018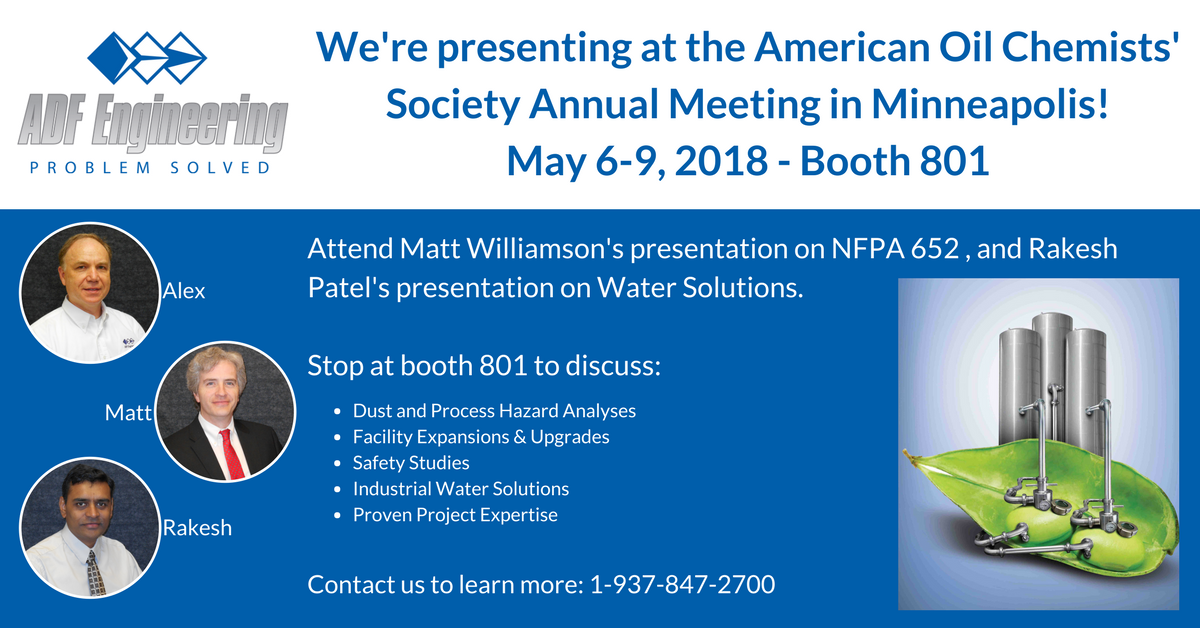 ADF invites you to join us as Matt Williamson and Rakesh Patel present on two timely and relevant topics:
Rakesh will present "Challenges and Opportunities in Effluent Water Treatment for Oil Seed Processing Plants" at 10:20 a.m. on Tuesday, May 8, in Room 200F.
Directly following, Matt will present "Creating an Effective Dust Hazard Analysis for NFPA 652 Compliance" at 10:40 a.m on Tuesday, May 8, in Room 200F.
You can also visit us in Booth 801, May 6-9. Alex Fishman will be in attendance with Matt and Rakesh to discuss ADF's capabilities and expertise in the oilseeds industry. We look forward to connecting with you at Booth 801.
Your partnership with an experienced engineering company can help your operations be more profitable. ADF Engineering offers extensive knowledge and a high level of process and facility engineering experience in food processing and bio industries from process development through operations. Every year ADF executes more than 400 value-driven projects.
Our recent work includes:
Soybean and canola crush plant capacity expansion
Dehulling system upgrade
Deodorizing vaccuum upgrade at a large vegetable oil plant
Soybean, palm oil, and minor ingredient blending project
Oil delivery system to packaging line
Enzymatic interesterification (EIE) process integration
Detailed engineering design for vitamin E extraction from soybean oil
Detailed engineering for lecithin process addition to existing oil refinery
Process engineering study including material and energy balances for prepared foods processing line
Completed various dust collection and aspiration projects at oilseed prep and crushing plants
OSHA combustible dust studies and implementations
Completed water and wastewater improvement projects at several large vegetable oil plants