ADF Welcomes Robin Selhorst
FOR IMMEDIATE RELEASE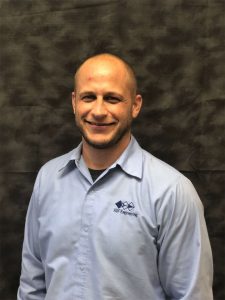 Miamisburg, OH, January 12, 2021 – ADF Engineering Inc. welcomes Robin Selhorst to its team, strengthening the company's growing Construction Management and Design-Build practice. Robin brings twenty-three years of industrial construction management experience in ground-up building of food processing, grain, biofuels, pet food, and manufacturing plants.
There is growing pressure on industrial plants to minimize downtime and collaborate in the design, prefabrication, and installation of industrial additions, equipment, and piping systems. These demands are driving manufacturing facilities to partner with design-build options to reduce costs, construction time, and complexity. The advancement of 3-D technology and more precise laser scanning measurement is driving assembly from construction sites to fabrication shops.
"We are seeing more companies looking for engineering firms who can combine engineering, fabrication, and installation requirements into a single service. To meet this need, we've expanded our expertise in identifying and vetting industrial fabrication and construction companies to support our North American food, feed, and consumer products clients," said Alex Fishman, President of ADF Engineering.
According to the Design-Build Institute of America, design-build spending in the manufacturing segment is expected to reach $53 billion by the end of 2021 compared to $44 billion in 2018. The main reason for the continued growth is the collaboration of plant engineers with a team of process engineers, designers, fabricators, and installers. This team approach quickly identifies challenges and issues, allowing the project to move forward at a consistent pace.
"I'm excited to be joining the ADF Engineering team. My goal is to meet with fabrication and construction firms in the region to identify areas of specific expertise and specialty areas to best match our customer needs to the right team," said Robin Selhorst. "My goal is to simplify the plant engineer's projects by bringing vetted teams that are willing to collaborate and deliver a high level of customer service."
About ADF Engineering
ADF Engineering helps clients improve manufacturing operations and profitability by designing safe, efficient, and sustainable solutions. Over the last 17 years, ADF Engineering has been the go-to source for engineering solutions for the oilseed, grain, agriculture, sugar, sweetener, biofuel, pet, and animal feed industries. With offices in Miamisburg, Ohio, and Omaha, Nebraska, ADF Engineering serves some of the world's largest companies in the United States.
Media Contact: Steve Minnich @sminnich@adfengineering.com